What I say: I'm not the least bit worried that my kids would ever try alcohol before they are 21.
What I mean: I'm scared as fuck that my kids will experiment with alcohol before they are of age, and that no matter how much I preach, it won't make a difference!
Two words: Vodka. Tampon. While at a 4
th
of July cookout, a few friends and I had an enlightening chat about vodka tampons. Not sure what a vodka tampon is? It's a tampon soaked in vodka, then inserted in a female's vajayay, or up a male's ass (a/k/a butt chugging), and then the vodka is absorbed into the bloodstream and the tampon wearer is promptly shitfaced, without the extra calories, the need to vomit, or the smell of booze on their breath. Just one teensy little problem. It can cause alcohol poisoning, which can be deadly.
Doesn't jamming this up your ass or cuca look like fun? NOT!
Let me make myself clear. I DO NOT condone underage drinking. What I want to know is: when the hell did teenagers become so friggen lazy? They are resourceful, I'll give them that, but would they really rather stick a wad of cotton up their hoo-ha (which happens to be full of alcohol, and I assume would feel like a lit match inside whichever orifice they happen to be using), rather than chug down a few beers the old-fashioned way?
Once upon a time, a long, time ago, when I was not quiiiiteeee 21, I was heading to the Vineyard with my friend and her family on the ferry. She and I brought an empty duffle bag, and actually had the elephant balls to approach older guys with coolers and ask them if we could have a beer for later. In most cases, the guy was happy to oblige – what was the harm in one? By the end of the ferry ride, my friend and I had a duffle bag full of 15 or so random beers: cans and bottles of Bud,
Corona
(with no lime, since we didn't know any better-yuck), Busch, Coors, Rolling Rock…you name it, we had one in the bag. My friend was careful not to jiggle the bag too much for fear of tipping off her parents as to the contents – it was only about 10 minutes to the house, but it felt like hours. We stashed our booty under a bush and then snuck out after dark to have our own little party! Here's the thing. Warm beer tastes like ass. But we drank it! Never once did we try to come up with alternate means of ingesting the vile liquid. I can honestly say that the words "Hey, lets soak some tampons in beer and then shove them up our pussies!" never crossed our minds.
WHEN YOU TURN 21, getting drunk is a rite of passage. You have to do it right in order to get the full experience! Pounding down several beers, doing a few shots until you can no longer stand up, and then puking it all up while your best friend holds your hair is all part of the experience. Shoving booze soaked cotton where the sun doesn't shine just to get a quick buzz is ridiculous, and I'm guessing pretty painful! Spending a few hours hugging the porcelain throne sounds a lot better to me than spending a few hours with what probably feels like a flaming wad of cotton up your vagina/ass.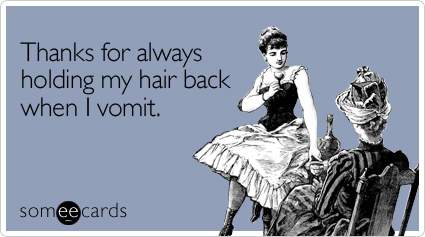 Friends don't let friends try vodka tampons!
Parents, if you suspect your teen has been drinking, remember to check BOTH ends for the smell of booze! And if you seem to be going through tampons at an alarming rate, or if you happen to find a box stashed under your son's bed, now you know why!